Buildings
One of the first issues that people moving into the 40mm scale for modelling and gaming find is the lack of terrain pieces available on the current market. That's certainly one of comments that popped up quite often in discussions I've had with other games about this scale.
For those of us that are good or even capable modellers, building your own is certainly a viable option. And probably, building your own is an exercise of value for those of us that aren't particularly capable in that space; I have even managed to build passable terrain pieces occasionally. So, with that in mind I engaged a friend who is far more capable than me to build some basic buildings for the medieval range, as an exercise to see what could be achieved.
Starting at the beginning, the internet, we tracked down some images of buildings from the early medieval period, that were part of an Anglo-Saxon living history village in the UK. The aim was to produce models of historical buildings that could be cast in resin, flat packed for ease of shipping, and, were relatively straight forward for people to assemble. But we still wanted to make sure these buildings had good detail that people could see and that looked the part. Which I think we have achieved.
The first set of buildings, five in number, consist of two simple A-frame cottages, a larger cottage, a barn, and a simple two storey manor house. The A-frames differ in structure only at the ends, one has wattle walls and the other has upright planks. The barn comes with wattle fence sections which will also be sold separately.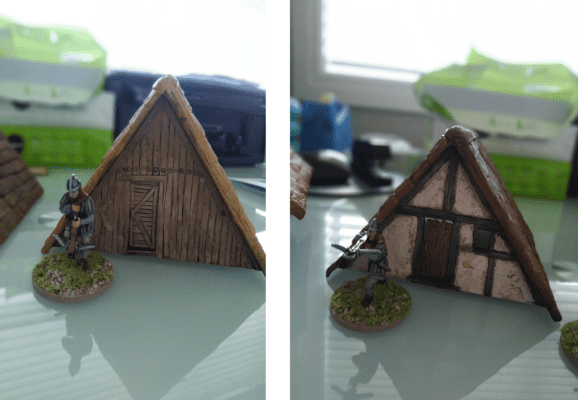 The two A-frames with a figure for size comparison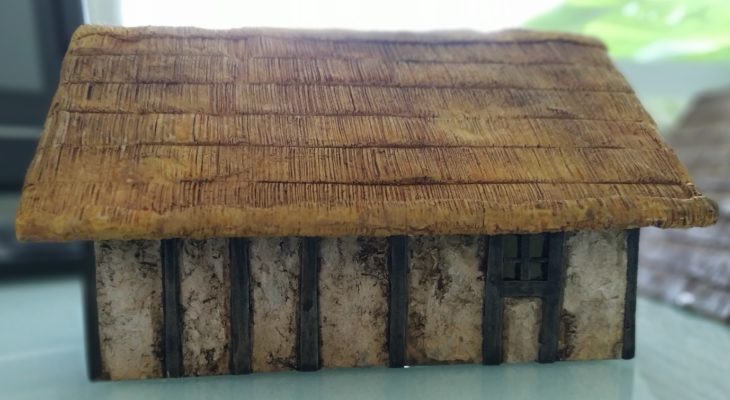 The large cottage built to the same scale as the A-frames
These buildings are simple to assemble just requiring some super-glue and some patience; I've even managed it myself. They come as separate flat parts, cast in resin and simple to glue together.
Two of the building kits
Along with the barn, these buldings are suitable to create a small medieval village typical of the English/Welsh borderlands. There might need to be a small chapel in the future just to complete the typical village set!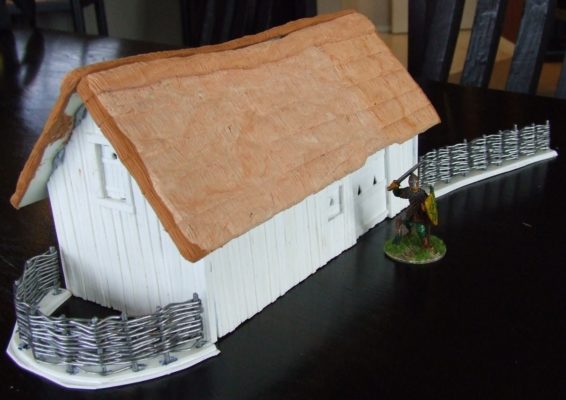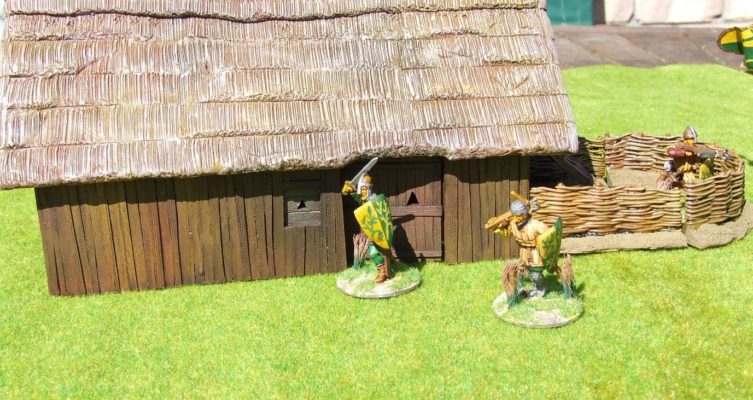 The barn and wicker fence pieces
All five of the first set of buildings should be available on the website by the end of November, and will be sold with simple assembly instructions. We will also have some "scatter" to go with the buildings, pots, jars, bowls and sacks, the kind of things you expect to see lieing around a rural village.
We are currently looking at some working history examples of 18th century forts and buildings from North America. If this first set of buildings is of interest to people we will look at adding buildings for the FIW and AWI ranges.
For inspiration we are looking at the following sites –
http://www.fortloudounpa.com/ – Fort Loudon Pennsylvania
https://en.wikipedia.org/wiki/Fort_Loudoun_(Tennessee) – Fort Loudon Tennessee