The year is racing away and it is nearly Black Friday again. Like last year we are offering a Black Friday special, 20% discount on all sales over $100 from Thursday 25 November to Monday 29 November. Use the coupon code "blackfriday21" on your order to claim this discount.
I am slowly adding pictures of painted AWI Spanish to the web catalogue. The grenadiers are the latest to appear there with some beautifully painted figures featuring. Here are some of the pictures –
I probably need to practice my picture taking a bit more to improve some of these. These were painted by local gamer Kelly who is a a lot better than my photography shows.
The latest masters I've received are the Scots for the medieval range –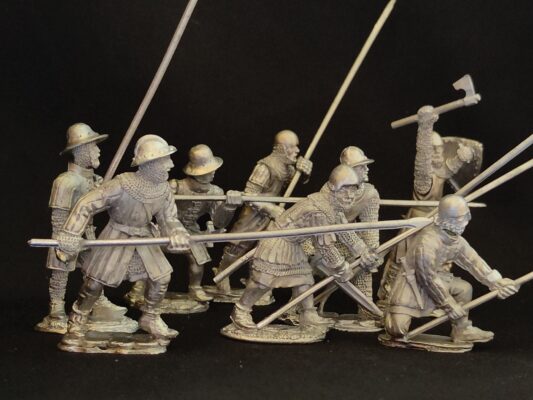 Six spearmen, two of whom are knights for the front rank. A knight urging the troops on, axe raised in the air (William Wallace?), three spearmen casualties, a knight casualty and a wounded horse. The master molds are made and we will be running our first ever Kickstarter to raise funds to create the production molds. We will send out an update when the Kickstarter is up and running.
These Scots spearmen are classic front and middle rank soldiers. A number of the spearmen from the existing Welsh range can be used as unarmored spearmen. Eventually we will be adding more Scots, Islemen and then Irish.